At Taiyo Knit, we have listened to the feedback of fans of our compression socks over the life of their development and the creation of new products – a journey which has been going for more than 20 years now.
The gripping strength of compression socks is important, but wearing them for a long time can be less than helpful if they result in your feet becoming sore.
With comfort as the key consideration in mind, Taiyo Knit developed a unique pressure design that varies the degree of tightness for each part of the lower leg for our Bikyayku compression socks.
Over the years, we have refined and improved this pressure gradation, and many customers have commented that the Bikyaku socks are tight but feel good.
Since compression socks are often worn every day and in all situations, these socks provide a firm, supportive hold and a fit that conforms all the way along, which results in a comfortable experience.
Why do Bikyaku compression socks reduceswelling and foot fatigue?
If swollen feet are left untreated, it becomes difficult to relieve leg fatigue.
In addition, if swollen feet are left untreated for a long period of time, cellulite may form.
Another thing to keep in mind is that accumulation of waste matter in cellular tissues can lead to other problems such as pimples, constipation, and sensitivity to the cold.
By applying higher pressure at the ankles and gradually decreasing pressure from the calves through to the knees, stagnant blood and lymphatic fluid in the feet are smoothly pushed upward.
This is what makes our Bikyaku socks unique
Designed to grip firmly at the ankle, with stepped pressure.
Strong gripping pressure results in more power.
Our new Bikyayku compression socks have been improved upon in response to customer feedback asking for a firmer fit.
Pressure gradually decreases from ankle to knee, helping circulate blood, lymphatic fluid and other built-up fluids in and around the feet.
*hPa (hectopascal)
International unit of pressure measurement.1hPa is the amount of pressure applied to 1 cubic centimeter.
Values shown are based on results of tests conducted by the Nara Prefectural Industrial Technology Center.
For more than 20 years, we have been developing our compression socks based on customer feedback, who value not only strength but also comfort.
Your feet will feel lighter and refreshedat the end of the day.
Reliable quality from our years ofexperience.
Attention to comfort, made by sockcraftsmen.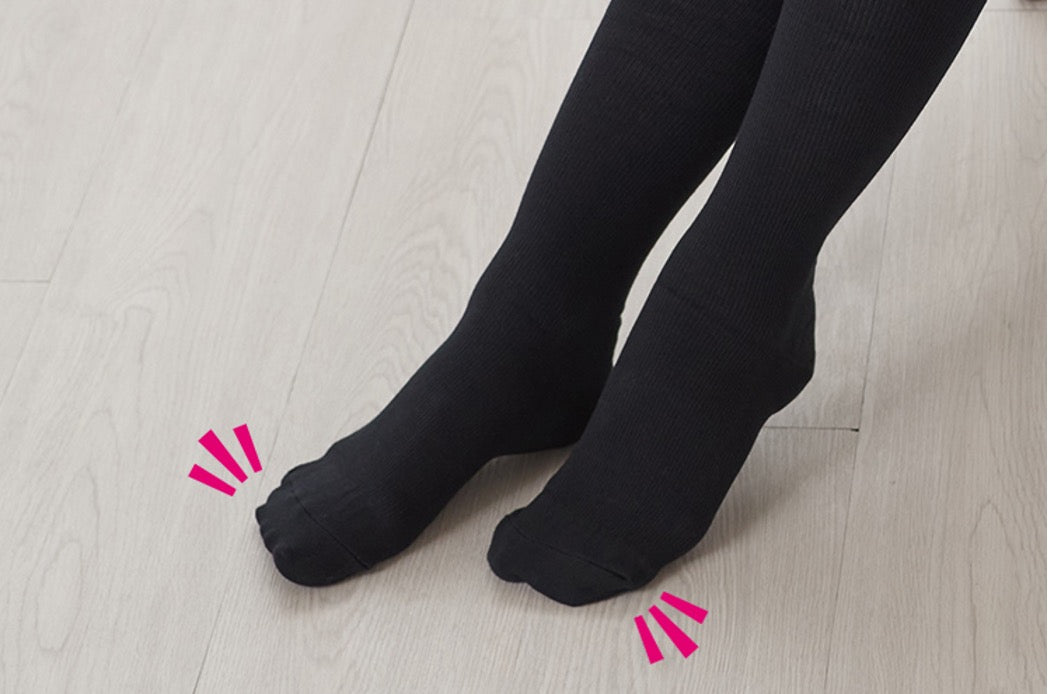 Loose toe design with no pressure
Comfort is always in mind.
Nice and loose, making them comfortable for those with wide toes or that suffer from ingrown toenails.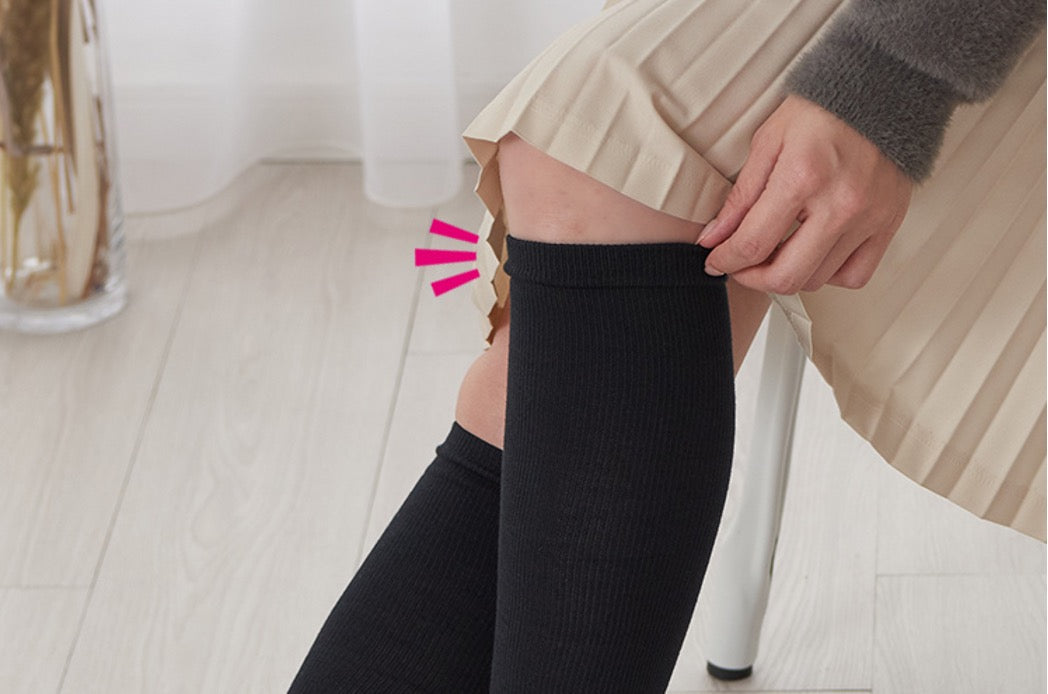 A snug fit that is less prone to slippingdown.
The cuff is designed to fit snugly just
below the knee.
For better return circulation, the socks are designed for an ideal fit – not constrictive but also not to slip down.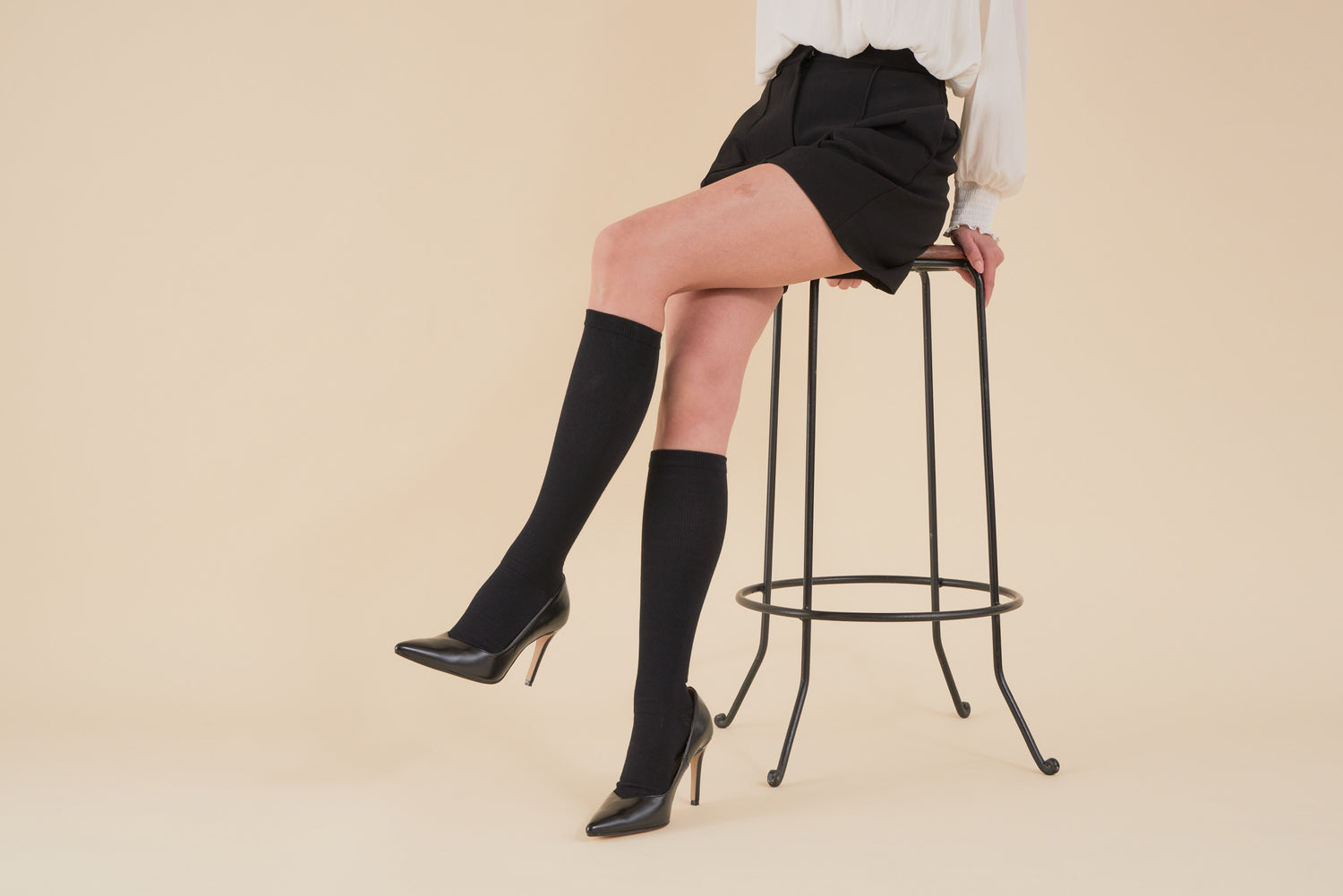 Stylish thin-ribbed design
Compared to conventional ribbed knitting, the knit is finer.
The fine ribbing gives a sleek look to the legs.
Cotton is a 100% antibacterial, deodorizingmaterial.
Gentle to the skin with excellent air flow, making them comfortable without getting too damp.
Bikyaku Compression Socks